How Motivation and Exercise Have Molded My Passion Towards Dentistry
---
Dr. Michael Kezian – The IRONMAN:
Dr. Michael Kezian, a dentist practicing in Los Angeles is known as the "IRONMAN Dentist" by his closest friends and patients. The term came about because, for one, he is a skilled medical practitioner and two, he participates in several IRONMAN Triathlons. But the symbolic moniker goes far deeper than its catchy surface meaning. According to Dr. Mike, delving into the world of triathlons five years ago and recently launching his boutique cosmetic and implant dental practice have been life-changing experiences that have impacted him in profound ways.
His philosophy:
Any new journey comes with a fair share of uncertainty, but it is in overcoming obstacles and learning from adversity that strength and character are developed. For Dr. Mike, taking on diverse challenges have resulted in an enriched and informed approach to business as well as to his personal ventures. "The drive and motivation to set goals and fulfill the dreams of being the best you can be" is paramount to the philosophy of his dental practice and also extends to his attitude toward the IRONMAN Triathlon. The mantra of "being the best you can be" has pushed him to accomplish rigorous training, dedicate himself to the necessary preparation, and work on his stamina, all in the lead up to the competition.
The Big Day:
The upcoming IRONMAN Triathlon on November 19th, 2017 in Tempe, Arizona will be the third out of ten events that he has earmarked as a personal goal. He hopes to improve his best individual time for every portion of the three-tier race.

"The date will be just a few days before my 29th birthday," said Dr. Mike. "This is the best gift that I could ever give to myself, to finish the race at the pace set for my personal goals."

The IRONMAN Triathlon is composed of three stages: a 2.5-mile open lake or ocean swim, a 112-mile bike race and a full 26.2-mile full marathon. The training required for such an intense series of events usually involves a year of focused extreme exercises, a unique diet structure and overall mental resilience.
Preparation:
As an Ironman triathlete, his fat to muscle ratio is less than 8% allowing him to have the leanest weight and the greatest amount of energy production. Diet is a large part of the preparation process as the body is discouraged, through proper meal plans, from storing fats and encouraged to use all nutritional intake to produce energy, which greatly benefits Dr. Mike in all triathlon-related activities.

The mental component is by far the most important and challenging part of the year long preparation period. "You have to see past the failure and continue to meet your present goals and see your dream at the end of the tunnel." Having a strong presence of mind in spite of setbacks and disappointments is part of the mental game that must be prevailed over in order to succeed.
In a slightly joking manner Dr. Kezian compares dentistry to the rigors of an Ironman Race: "When I do a full set of surgical procedures including difficult extractions, bone grafts and immediate implants, I need to dig deep and pull from the mental and perfection skills involved in training for the Ironman."

Dr. Michael Kezian – The Dentist:
Following his professional objectives, Dr. Michael Kezian started up a boutique personalized dental office in Hollywood, California centered on cosmetic dentistry, dental implants, and advanced surgical procedures. However, Dr. Mike does not consider himself a "Hollywood dentist", instead he prefers to be known as the "community Larchmont-Hollywood dentist that you can call on a Sunday when you or a family member has a dental emergency". The newly-opened office is called Larchmont Dental Associates and is an active part of the Hollywood -Larchmont community providing a wide variety of dental procedures and services including custom porcelain dental veneers, dental implants, root canals and surgical extractions.
Procedures:
A recent case shared by Dr. Mike involved a young and very talented female singer with dark and broken teeth. Due to financial difficulties the singer's family could not afford the porcelain veneers and crown needed to improve her smile. As a result, her self-esteem dipped and smiling during her performances seemed out of the question. She was unable to truly present herself to her audience.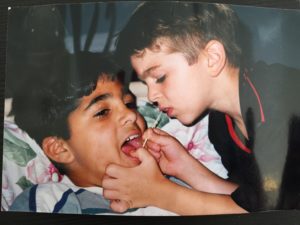 After a few dental visits which included dental bleaching, E-max veneers and state-of-the-art porcelain work she was able to smile again! Her confidence levels skyrocketed, and her professional career took an upward climb as well. Her friends and family could not stop commenting on her lovely smile, made even more pronounced by a pair of cute dimples that appeared when she beamed ear to ear.

Another popular procedure mentioned by Dr. Mike is the "Pre-Wedding Dental Tune-Up". The before and after results are really significant to a young bride planning her big day and make a positive difference in her general mindset and appearance. And as stated by the IRONMAN Dentist, "You really feel like part of the wedding team after such satisfaction."
How it all started:
In truth, Dr. Michael Kezian's path began a long time ago. He happily recollects the age at which the desire to be a dentist struck him. He was only seven years old. At that time, he spent countless Sundays at his parents' dental practice – his mother and father are dentists, having graduated from the UCLA School of Dentistry. It was during those moments in the waiting area of their office, admiring the large saltwater fish tank full of beautiful, exotic fish that he fell in love with the vocation.

"I thought dentistry could be a lot of fun," he said.

Now, he is an honor graduate of the Pacific University Dugoni Dental School, and five years into his dream job has confirmed his childhood intuition. Dentistry is fun! Being a dentist in the Hollywood-Larchmont Village region is an exciting realization of his life's passion, a true source of accomplishment and a culmination of his aspirations.

With the experience and knowledge gained from both his athletic endeavors and his professional journey, Dr. Michael Kezian has given invaluable advice to young patients and fellow colleagues alike. His message is a clear and powerful one: use motivation and passion as formidable forces to help reach your highest goals and to fulfill your grandest ambitions.
---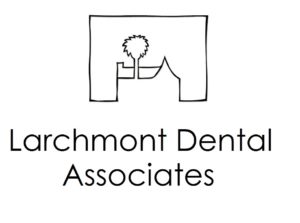 Larchmont Dental Associates
581 N Larchmont Blvd
Los Angeles, CA 90004
(323) 465-2127
www.larchmontdentists.com
larchmontdentists@gmail.com