Porcelain Veneers in Los Angeles
Dental veneers are ultra-thin porcelain shells or composite resins which are bonded to the teeth according to a custom made size. This is the best method of restoration of smile and for sparkling teeth, because while applying the dental veneer dentist fix all the issues like the uneven spacing of teeth and chipped teeth and it is the best way to disguise the stained teeth with a mask, giving you sparkling smile.
Why should you opt for the veneer?
In many cases, the veneer is a more sought after procedure, because in comparison to a crown, it has a more conservative approach. It is difficult to get stained and better option to fill the gaps between the teeth. But before opting for this, you must bear this in mind, that the veneer is irreversible once bonded. That is why our Los Angeles dental veneer dentists guide, educate and counsel the patients before going through the process. Following are some facts about the dental veneer which you might want to know.
Before bonding the veneer to your teeth you will go through a small teeth reduction process, approximately .5mm, and these are irreversible once done. So be you must bear this in mind
Usually, during preparation of Porcelain Laminate Veneer it doesn't require any kind of anesthetic but those patients who are anxious and feel uneasiness during treatment can opt for a local anesthetic
Porcelain Laminate Veneer preparation takes about a week. A temporary veneer can be applied to the teeth, once the impression is made, but it depends on the patient, some don't need such because the tooth reduction would be minimal.
As it would take about a week for fabrication of Porcelain Laminate Veneer it is likely that you'll feel some sensitivity to things due to removal of enamel covering the teeth, but you don't need to worry because it would go away once the Porcelain Laminate Veneer is bonded to the teeth.
The time for the insertion of laminate would be longer than the previous time and it could be accomplished with or without the local anesthetic, depending on the patient, it can be used if needed. Once the temporary veneer is removed, if had placed any, the teeth will be cleaned with pumice and water. Adhesive and the cement will also be used.
Porcelain Laminate Veneer are strong enough to resist any kind of force by the food, but you should bear the fact in mind that its tensile strength is very low and you must avoid from hard food items which can bend or mod the laminate.
A dental veneer is the best for your teeth if those are unevenly spaced, crowded, discolored, chipped or decayed because it gives a natural look to the teeth giving your teeth an aesthetic beauty by restoring your smiles. If you want to rectify the aesthetic abnormality of your teeth our professional dentist is always available for your dental needs. Cosmetic dentistry is not only about the aesthetic but it is for many other issues as well and we have helped many people in correcting all the issues according to their wishes.
Before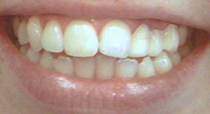 Porcelain Bridge & Veneers
After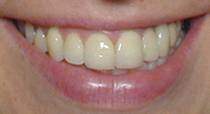 Porcelain Bridge & Veneers
Before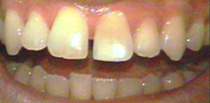 Patient had uneven and protrusive spacing with tooth discoloration.
After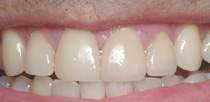 Bleaching and Los Angeles Porcelain Veneers
Before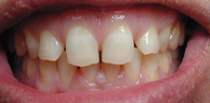 Patient had wide spaces and unevenly shaped teeth.
After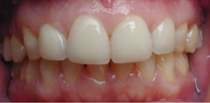 Bleaching and Porcelain Veneers
How to Maintain Porcelain Veneers?
The maintenance of a veneer is not that difficult but there are some facts and tips to follow by which you can better protect the veneer and enjoy your sparkling teeth forever.
Don't worry about the oral hygiene and do flossing and brushing properly as you do on normal days, but it is better to use any non-abrasive toothpaste for doing so. Normal flossing and brushing would have no impact on the laminate and aesthetical beauty of your teeth but a good care would ensure that your laminate last sparkling for years.
You'll feel the sensitivity to hot or cold things at beginning depending on the enamel reduction and proximity of the nerve to the upper layer and many other things but it will disappear by itself. In case you feel that it is not going to disappear you must make an appointment with the Los Angeles dental veneer dentist to discuss the issue.
Normal food items would not affect the laminate but you should be cautious in biting on hard food material otherwise it could be affected.
Avoid from fighting, drive carefully to avoid any accident and be careful during sports activities.
Broken veneer
Sometimes due to the negligence or due to indocile incidents the laminate veneer is broken, chipped or fractured, but depending on the level of fracture it can be re-bonded depending on the kind of emergency. Mostly the porcelain veneer emergencies would be of two kinds i.e. fracture and debonding.
Fracture: when you have broken, chipped or cracked the laminate
De-bonding: When the laminate veneer has come off, usually intact
Depending on the kind of emergency it can be rectified, but it is better you visit the dentist as soon as possible otherwise, the situation could be exacerbated further if you are not aware of what has happened and what to do the very next moment.
In cases when your enamel has not been reduced to a higher level there would not be any threatening issue if it takes the time to make an appointment, but if the teeth have trimmed to a larger extent it could be problematic and you should make an appointment with the dentist immediately. In the meantime, you might feel sensitivity to things and temperature and find it irritating to your lip and the tongue, so you can go for these temporary solutions.
Temporary solution
If you feel irritated by the sensitivity or roughness of the teeth due to a broken veneer, you can place a protective layer of wax on the tooth (you would find the dental wax in most of the drugstores). Mostly white dental wax is better to use.
Is broken veneer repairable?
A Broken veneer can be repaired but depending on the severity of the damage occurred to the veneer and depending on the intensity of damage our dentist would suggest you different solutions. Normally it has been observed that people are encountered with two kinds of problems and you must bear that in mind before going to any veneer repair.
Your laminate is obviously made of porcelain but the repair wouldn't be of porcelain, rather it would be made of plastic. So, in beginning it would perfectly match your teeth and there would be no distinction between the repaired one and the others. But with the passage of time, there would be chances that the distinction would be observed due to deteriorating bonding between the porcelain and the plastic part.
In some cases, it might be troublesome when the repaired patch and the veneer find it difficult to work mutually due to the biting force which would exert a substantial force on the tooth putting the bond between the two in trouble.
Post-treatment
Once you have gone through the treatment, it is likely that our dentist may ask you to return to the office for an appointment and this appointment will be important because the dentist will evaluate the treatment. You'll be inquired about any issue and depending on the evaluation report there could be further steps to take. While coming to the office you can make your mind and list down the issues, if any, and explain those before the dentist.
Larchmont Dental Associates – 581 N. Larchmont Blvd Los Angeles, CA 90004 (323) 465-2127